Educators Learn New Ways to Teach Conservation
North Plains Groundwater Conservation District's new Tips & Sips education series has some area teachers taking on the role of student to learn some water conservation activities for their classrooms. Tips & Sips is a series of learning experiences designed to equip educators with some new ways to engage their students around the concepts of water conservation and stewardship. The program is presented in cooperation with Project WET, a nationwide water conservation education organization. The four evening workshops take place at The Plaza Restaurant in Dumas with the district providing appetizers and The Plaza pitching in a beverage for each of the participants. Each workshop is approved for continuing education credit and any participant who completes all four workshops will be certified as a Project WET Educator. Those completing certification will receive a Project WET Curriculum and Activity Guide, complete with 64 activities spanning grade levels K-12.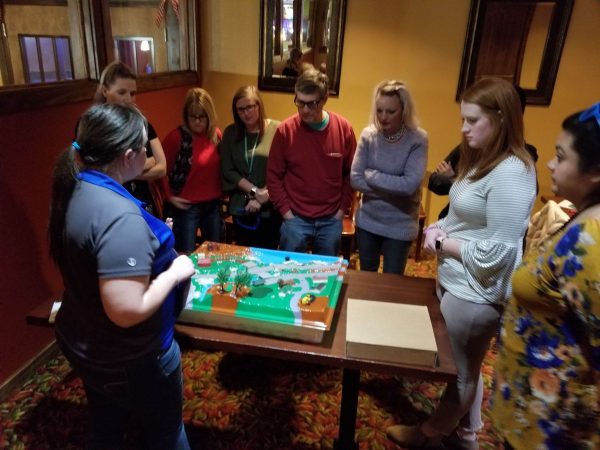 The first two sessions took place on November 6th and December 4th. Educators participated in hands-on activities including "Nature Rules," incorporating water-related news articles into class discussion and writing exercises. Another activity known as "We All Live Downstream" involved the teachers spreading contaminants over a watershed model and then using spray bottles to rain on the watershed and see where all the pollution goes. Finally, participants solved the mystery of unexplained illnesses caused by contamination of groundwater.
The final two sessions are scheduled for January 15th and February 12th and spaces are still available. For more information about Tips & Sips contact Julia Stanford at jstanford@northplainsgcd.org.