WCC to Demonstrate Conservation Practices
North Plains Groundwater Conservation District has several demonstrations planned for the 2019 growing season to gather important data for local growers. The North Plains Water Conservation Center (WCC) serves the farming community by showcasing new technologies and conservation techniques. The district then shares the processes and results with area farmers, so they can evaluate what strategies and equipment may help them be more efficient on their operations.
Much of the 320-acre WCC farm will be involved in the demonstrations. Both pivot fields (88 acres on the West pivot and 110 acres on the East field) and about 19 acres of subsurface drip irrigation (SDI) will be used. The district's agricultural engineer, Nicholas Kenny, will direct the following demonstrations with daily operations conducted by farm operator Stan Spain and Natural Resource Specialist Curtis Schwertner.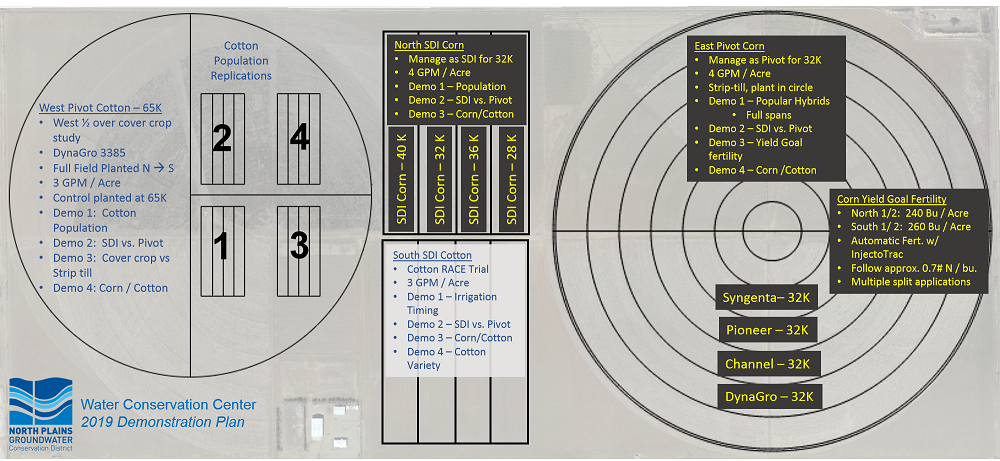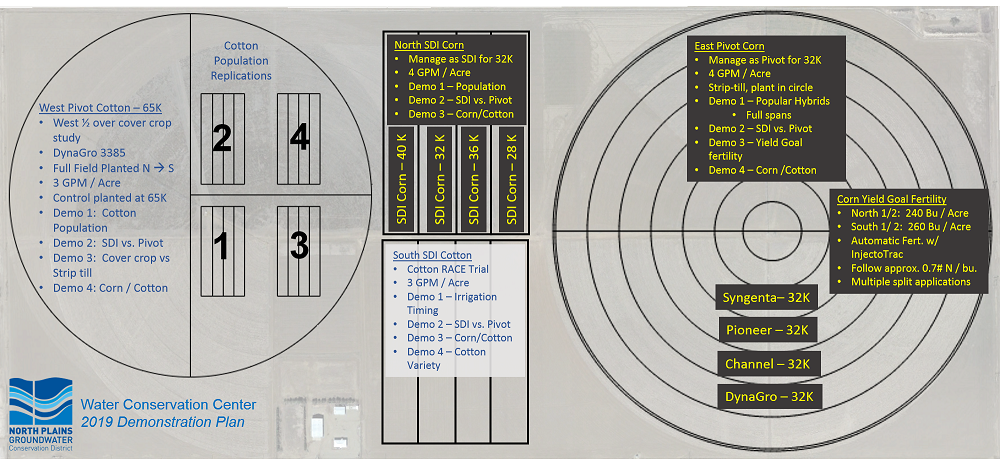 Population studies in corn and cotton begun in 2018 will continue in 2019. Cotton will be planted from 45,000 seeds/acre (45K) up to 110K, while corn will be planted from 28K-40K. Using actual seed costs, yields will be analyzed in order to determine the most profitable planting population. A corn-versus-cotton comparison will also be analyzed in accordance with prevailing market rates and production costs.
One of the SDI fields will be irrigated at 3 gallons per minute per acre (GPM) and will be a site for the Replicated Agronomic Cotton Evaluations (RACE) Trials directed by Dr. Jourdan Bell of Texas A&M AgriLife Extension. The district will cooperate in documenting the water use efficiency of the RACE Trial at the WCC, as well as at several other on-farm trial sites throughout the Texas Panhandle. Bell's RACE Trial sites within North Plains GCD will be documented with weekly videos throughout the growing season, thanks to an educational partnership between the district and extension staff. More information about this partnership (and the videos once they are available) can be seen at www.northplainsgcd.org/cotton.
The West pivot will be planted in cotton and irrigated at 3GPM. The West half of the field is part of a cover crop study that started last winter and will be planted at a 65K population as a control. The other half will have four replications of four different planting populations – 45K, 65K, 90K, and 110K.
Strip-tilled and receiving 4 GPM, the East pivot will show four popular corn hybrids planted at 32K. Fertility management will be demonstrated on the North and South halves in attempts to unlock higher yields – the goals are 240 and 260 bushels per acre, respectively. Fertility supplements will be applied automatically with the new Injecto-Trac system that can be controlled through the PivoTrac Monitoring controller.
Other technologies that will be demonstrated at the WCC are soil mapping, drone evaluations, and pivot monitoring. Soil moisture will be monitored at a variety of sites throughout the farm using AquaSpy, GroGuru, and Trellis systems, as well as gravimetric sampling and gypsum blocks. At least three root digs are planned to give more insight into the soil and root structure.
All data from the fields will be monitored throughout the season and analyzed by Nicholas Kenny. The district will have a field day at the end of the season to present the results of the demonstrations. Stay up to date on demonstration progress and grower meetings by following North Plains GCD on Twitter, Facebook, and Instagram. You can also text "WCC" to 313131 for text updates when new information is available. You will receive no more than one text message per week.