Project WET Curriculum
Project WET is a non-profit water education program for educators aimed at students 5-18 years old
The Project WET (Water Education for Teachers) program facilitates and promotes awareness, appreciation, knowledge and stewardship of water resources through the dissemination of classroom-ready teaching aids and the establishment of internationally sponsored programs.
Project WET Mission
To reach children, parents, educators and communities of the world with water education.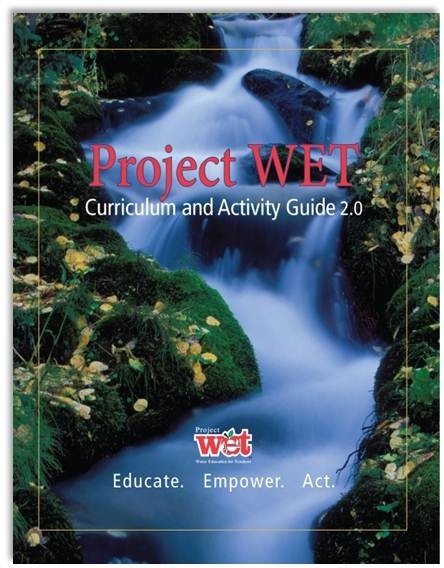 Project WET believes:
Water moves through living and nonliving systems and binds them together in a complex web of life.
Water of sufficient quality and quantity is important for all water users (energy producers, farmers and ranchers, fish and wildlife, manufacturers, recreationists, rural and urban dwellers).
Wise water management is crucial for providing tomorrow's children with social and economic stability in a healthy environment.
Awareness of and respect for water resources can encourage a lifelong commitment to responsibility and positive community participation.
Instruction and Delivery Network
The Project believes in training. People are introduced to Project WET materials at workshops conducted by an international network of facilitators. Workshops are an exciting, engaging and powerful learning experience. Educators of all disciplines receive the latest materials, learn to teach water education activities and walk away inspired.
Instructional Approach
Project WET materials are interdisciplinary, hands-on, minds-on teaching tools for educators teaching students ages 5-18 years old and beyond. All materials are designed to help educators and students engage and explore the world of water while complementing existing curricula as well as meeting curriculum objectives and educational standards. All materials are appropriate for use in formal and non-formal education settings.
To learn more, please visit the website at www.projectwet.org.
To learn more about how you can participate in a Project WET workshop in Texas, or to obtain information on becoming a trained Project WET facilitator, please contact the Texas Project coordinator through www.projectwet.org to find out more about workshops to be held in your area.
To learn more about Make a Splash, visit the Project WET website at: http://www.projectwet.org/what-we-do/make-a-splash