Calendar Contest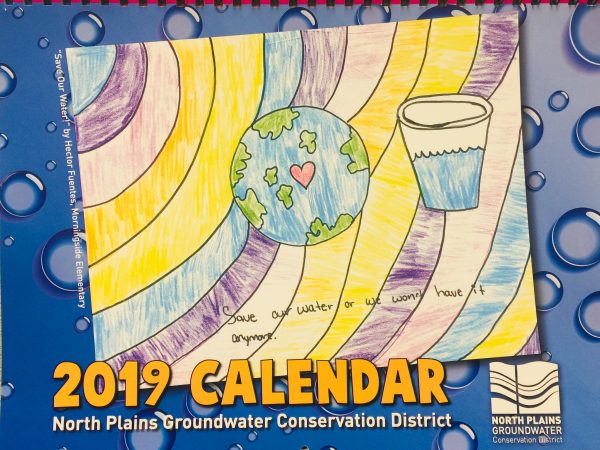 Each year the North Plains Groundwater Conservation District invites 4th-6th grade students in the district to submit their best artwork on the subject of water conservation during the Water Conservation Calendar Contest. The competition is held in order to select the 13 winners to be included in the following year's calendar, produced by the North Plains Groundwater Conservation District. Students are asked to draw a picture of a way to conserve water and to be as creative as they like.
Guidelines are as follows:
The more colorful the artwork, the better!
Artwork drawn in pencil will be disqualified because it is difficult to see once scanned into the computer.
The artwork requires landscape mode on 8.5″ x 11″ paper so that it is longer than it is tall. Artwork submitted vertically will be disqualified.
Artwork should involve water conservation as its main topic.
First place will be awarded a $50 prize and the winning artwork will be featured on the cover of the calendar. There will also be 12 monthly winners, each monthly winner will receive $25 and their drawing will be featured on one month of the calendar.
To download the Water Conservation Art Contest Form, click here. Make sure to turn the form in with your artwork.
2018 Calendar Artwork Contest Winners
From sweet conservation sentiments using all the colors of the rainbow to detailed examples of at-home water tips, the entries of this year's Water Conservation Calendar Art Contest showed the heartwarming intelligence and creativity of youth in the North Plains. Now in its twelfth year, the art contest is offered by North Plains Groundwater Conservation District in Dumas, TX. Students in fourth, fifth, and sixth grades are invited every year to submit artwork relating to water conservation in hopes of winning a spot on the next year's calendar and a prize!
After receiving hundreds of entries from all over the northern Texas Panhandle, North Plains GCD staff members screened and voted on the submitted artwork to determine one grand prize winner to be featured on the calendar's cover and twelve additional winners to appear throughout the year. This year's grand prize winner is Hector Fuentes from Mrs. Robinett's fourth grade classroom at Morningside Elementary School in Dumas. His artwork is titled "Save Our Water!" and depicts earth and a glass of water on a multicolored background, with "Save our water or we won't have it anymore" written along the bottom. Hector's parents are Hector Fuentes and Esperanza Yudit Cereceres.
The twelve second-place winners are: Odalys Sanchez of Hartley ISD, Daniel Acosta of Morningside Elementary, Alejandro Flores of Dalhart Intermediate, Reese Taylor of Gruver Elementary, Suchi Bhakta of St. Anthony of Padua Catholic School, Genesis Celis of Sunset Elementary, Maggie Meeks of St. Anthony of Padua Catholic School, Lauryn Heiskell of Dalhart Intermediate, Averee Koehn of Dalhart Intermediate, Christian Vejar of Dalhart Intermediate, Sarah DeLeon of Dalhart Intermediate School, and Kaden White of Hartley ISD. Congratulations to all the winners, and many thanks to all the teachers and students that participated!
These students will receive certificates of appreciation, a $25 cash award, and will have their artwork featured inside the 2017 Water Conservation Calendar. In addition, each student will receive copies of the calendars to share with friends and family.
The free water conservation calendars serve as a colorful reminder throughout the year of ways that each of us can be more responsible for our water resources in the little every day actions that we can take. The calendars will be available at the North Plains Groundwater Conservation District office at 603 East 1st Street in Dumas, and also at water utility offices in each town within the district. You can also request copies of the calendar by calling the district office at 806-935-6401.
The district would like to thank all the students who participated in this year's contest. We also appreciate the parents and teachers who encourage their students to enter this contest each year. It is an excellent way to challenge students to think about ways they could conserve water, while allowing them to communicate a water conservation message to others through their art.
Artwork for the 2018 calendar is already being accepted. Send artwork on 11X8.5 (landscape view) to NPGCD at PO Box 795, Dumas, TX 79029 or drop it off at the office at 603 East 1st Street, Dumas. Any 4th-6th grade student who lives within NPGCD's service boundaries is invited to participate.Save
Save
Save