Art Contest Winners Highlight Conservation and Creativity
Media Contact: Julia Stanford, jstanford@northplainsgcd.org or 806-930-6934
From sweet conservation sentiments using all the colors of the rainbow to detailed examples of at-home water tips, the entries of this year's Water Conservation Calendar Art Contest showed the heartwarming intelligence and creativity of youth in the North Plains. Now in its twelfth year, the art contest is offered by North Plains Groundwater Conservation District in Dumas, TX. Students in fourth, fifth, and sixth grades are invited every year to submit artwork relating to water conservation in hopes of winning a spot on the next year's calendar and a prize!
After receiving hundreds of entries from all over the northern Texas Panhandle, North Plains GCD staff members screened and voted on the submitted artwork to determine one grand prize winner to be featured on the calendar's cover and twelve additional winners to appear throughout the year. This year's grand prize winner is Hector Fuentes from Mrs. Robinett's fourth grade classroom at Morningside Elementary School in Dumas. His artwork is titled "Save Our Water!" and depicts earth and a glass of water on a multicolored background, with "Save our water or we won't have it anymore" written along the bottom. Hector's parents are Hector Fuentes and Esperanza Yudit Cereceres.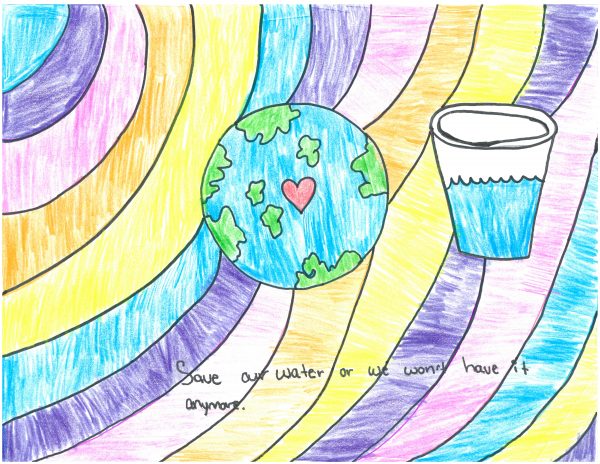 "Save Our Water!" by Hector Fuentes.
The twelve second-place winners are: Odalys Sanchez of Hartley ISD, Daniel Acosta of Morningside Elementary, Alejandro Flores of Dalhart Intermediate, Reese Taylor of Gruver Elementary, Suchi Bhakta of St. Anthony of Padua Catholic School, Genesis Celis of Sunset Elementary, Maggie Meeks of St. Anthony of Padua Catholic School, Lauryn Heiskell of Dalhart Intermediate, Averee Koehn of Dalhart Intermediate, Christian Vejar of Dalhart Intermediate, Sarah DeLeon of Dalhart Intermediate School, and Kaden White of Hartley ISD. Congratulations to all the winners, and many thanks to all the teachers and students that participated!
North Plains Groundwater Conservation District is authorized by the Texas Legislature, and dedicated to maintaining our way of life through conservation, protection, and preservation of our groundwater resources. The district is governed by an elected board of directors representing all of part of Dallam, Sherman, Hansford, Ochiltree, Lipscomb, Hartley, Moore, and Hutchinson counties. For aquifer information, interactive maps, and conservation education, please visit www.northplainsgcd.org.