Conservation Demonstrations Underway at WCC and Partner Sites
Contact: Kirk Welch, kwelch@northplainsgcd.org or 806-935-6401
About 95% of the groundwater pumped within North Plains Groundwater Conservation District is used for irrigated agriculture, and that's why the district is committed to helping local farmers use less water. Sharing knowledge and cutting-edge research through our education field days and the Master Irrigator program is effective in promoting water conservation, but when you must see it to believe it, that is where the North Plains Water Conservation Center and our other demonstration sites shine. Real farmers put their time and money on the line to prove that water-saving practices are worth it. North Plains Groundwater Conservation District is supporting the following demonstrations during this growing season.
One of our demonstrations this growing season is the use of on-farm weather station data to assist in irrigation decisions. Weather stations were installed at the Water Conservation Center and the properties of demonstration partners Danny Krienke, Harold Grall, and Jeff Becker. The stations will record site-specific soil moisture, wind speed, temperature, rainfall, evapotranspiration, and more. Having more accurate weather and moisture data should help producers make better decisions about water use.
Harold Grall, President of the North Plains GCD Board of Directors, farms in Moore County and is currently participating in a variety trial of four corn hybrids. Two of the varieties are designated as drought tolerant, meaning that they have been genetically modified to improve the plant's ability to use water more efficiently. Data acquired by the farming community regarding the effectiveness of hybrids under low water use conditions can be analyzed by seed companies to guide further development of varieties for water-scarce areas like the Texas Panhandle.
Taking the trial a step further, Grall is also experimenting with conservation tillage. The hybrids are planted on both a stripped-tilled section of the field and in a no-till zone, for side-by-side comparison of the two tillage practices. Conservation tillage describes a variety of methods to minimize soil disturbance by mechanical tilling. Reducing tilling frequency or intensity was originally intended to prevent soil erosion, but conservation tillage is now often practiced in combination with residue management and cover crops to improve soil health. Leaving plant stubble on the surface after harvest shields the moisture in the topsoil from sun and wind evaporation and can improve soil chemistry and microbial populations over many growing seasons. No-till practices require more weed control, and it may take several years before results can be seen.
At the 320-acre North Plains Water Conservation Center (WCC), farm operator, Stan Spain has planted 120 acres of cotton in the East Pivot field, and 20 acres of cotton in the North Zone of the subsurface drip irrigation (SDI) field. The 80-acre West Pivot field and the 20-acre South Zone SDI field are planted in corn. This plan reflects crop rotation to enhance soil health and manage weeds and pests. Spain has partnered with Crop Production Services to run variety trials, and segments of both pivots are under varying fertility protocols. The East field is under low elevation precision application (LEPA) bubblers, and the West field is irrigated by LEPA shroud bubblers. While the bubbler spray pads deliver aerated water gently in a stream, the shrouds deflect the water to create a gentle dome effect to cover more area. Outcomes of both of these irrigation methods will be compared to the SDI fields.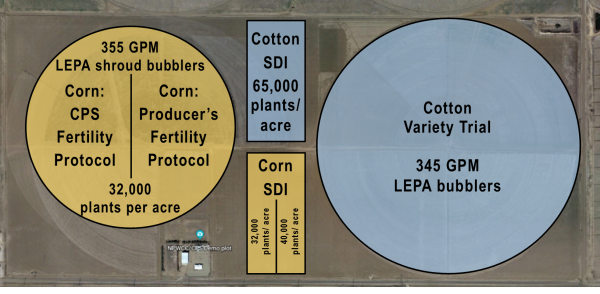 2018 crop plan for the North Plains Water Conservation Center
Spain has also begun a cover crop demonstration by planting winter oats on last season's cotton circle. Spain planted the oats at the end of January and, because of the dry winter, had to apply almost four inches of irrigation to germinate the crop and help it develop. Spain will monitor irrigation on the corn crop that has been planted on that circle to determine if the cover crop improves water holding capacity and crop yield.
On the heels of the corn-focused 200-12 and 3-4-5 GPM demonstrations, North Plains GCD is exploring the future of cotton in this region and alternative methods of increasing irrigation efficiency among all crops. At the end of the growing season, data will be collected on yields, irrigation inches, technologies used, and more. As the Ogallala aquifer continues to decline, it is imperative to improve irrigation efficiency while maintaining crop profitability.