Xeriscaping Class Scheduled for March 24th
With spring just around the corner, many homeowners and businesses will begin garden planning in hopes of bringing some color and beauty to their lawn. In the midst of this historic drought, North Plains Groundwater Conservation District would like to help citizens achieve the garden of their dreams with water-saving plants that are adapted to this area. Learn more about how you can have a beautiful, low-maintenance yard at an upcoming xeriscaping class presented by the North Plains GCD on Saturday, March 24th.
The word "xeriscape" comes from a combining of the word "landscape" with xeros, the Greek word for dry. Plants used in xeriscaping are adapted to arid climates like that of the Texas Panhandle, meaning they don't require much water beyond what naturally occurs in the area, and some can thrive in extreme conditions like constant full sun or periods of drought. In the xeriscape model of gardening, plants are grouped together in the landscape by their water needs – this helps to avoid overwatering or underwatering any of the plants. By strategically choosing plants and grouping them well, a xeriscape gardener can also create unique color schemes and manipulate symmetry to generate curb appeal. While some people imagine the rocks and cacti of the Southwest when they think about xeriscaping, these are not required elements of a xeriscape. Many xeric plants are colorful flowering plants that will brighten up your home or business.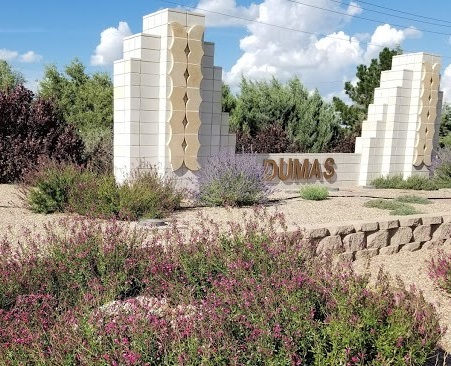 A joint venture between a local Eagle Scout, the City of Dumas, and the North Plains Groundwater Conservation District, the Welcome to Dumas garden features xeric and native plants.
Learn how to create your own xeriscape garden on March 24th from 9am-12pm in Dumas. The class will be held at the Window on the Plains Museum, and be taught by the Panhandle's xeriscaping expert, Neal Hinders of Canyon's Edge Plants in Canyon, TX. There is no charge for the class, but please RSVP to Julia at 806-930-6934 or e-mail jstanford@northplainsgcd.org.
To encourage adoption of water-saving gardening practices, North Plains GCD will offer all participants a $20 credit at Canyon's Edge Plants to begin their xeriscaping journey. Later this summer North Plains GCD will hold a xeriscape garden contest to recognize the water savers in the community – attend this class and get a head start on the competition!